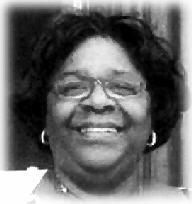 If you have any information about this victim, please contact us at tips@phillyobitproject.com
Date: 2017-11-12
Location: 1300 N 53rd St, Philadelphia, PA
News story:
MARGUERITE E. MANDER

On Nov. 11, 2017. Survived by a host of loving family and friends. Moments of Reflection and Honor will be held on on Wednesday, Nov. 22, 2017, 10 A.M. at WOOD FUNERAL HOME, Inc., 56th and Girard Aves., Phila., PA 19131.
From an online memorial:
I remember how good you were to me when my mother passed, but you were that support system for all of your family and friends. May God continue to bless you on the other side! Your precious spirit lives on , I'm so glad I had the pleasure of meeting you. Rest in peace.
***
Auntie Rite was always there for us all. With love, your nieces and nephews.

***

I have so many good memories of Aunt Rite. She always had my back. My heart and soul aches at this devastating loss.