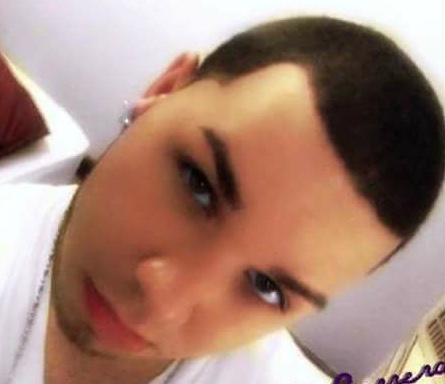 When Alexander Martinez was about 15, he sat down with his family and told them he had something to tell them.
His sister, Roz Pichardo, remembers how nervous he was, and his family knew what was coming.
"He said, 'I just wanted to tell you guys that I'm gay and I still love everybody and I want everybody to love me," said Pichardo, 40. "We just busted out laughing. I said, 'Alex, your room is purple. You have lavender curtains. You have Britney Spears makeup on your dresser. I think we knew this a long time ago!"
His dad hugged him and they started crying, and the family laughed for hours.
"He felt good after that, and everyone went back to their regularly scheduled programming," Pichardo said, laughing as she recalled the story.
Alex, whose nickname was Tito, loved color. He loved to do hair and makeup, and he loved art — he was creative, Pichardo said. And he was still searching for his path in life when he was killed Jan. 9, 2012, at the age of 23.
He was one of seven siblings, born Sept. 19, 1988 in Philadelphia, and graduated from Esperanza Academy Charter School, not far from where he grew up in Nicetown.
The night he was killed, Alex and his 16-year-old nephew were walking in the area of Rising Sun and Hutchinson to pick up Chinese food when they were approached by two men who tried to rob them. Trying to protect his nephew, Alex got in between him and one of the gunmen, and Alex was shot.
Police have a surveillance video of the homicide, but it's not clear enough to identify the suspects. No arrests have been made.
The ripple effect has had a devastating effect on the entire family, Pichardo said. Although her nephew was not hurt physically, he still suffers from PTSD, she said. Alex's father became angry at the world, she said, and would say he wanted to go to sleep and not wake up. A year later, that's what happened.
As a way to channel her pain and help others victims' families, Pichardo formed Operation Save Our City in the months after her brother's homicide. She supports families through actions like organizing peace walks, distributing fliers and helping them navigate the system. When a loved one is killed, families often don't know who to call to get status updates on the investigation or what to do to help bring attention to their case. Pichardo is happy to share her her experince and offer resources and advice. Several families she's helped went on to form their own victim support organizations and foundations.
"This is my purpose now," Pichardo said. "The satisfaction of getting someone off the street, the satisfaction of getting a case solved, the satisfaction of helping families remember their loved ones is all I can ask for — just keeping that memory alive. Because they will fall through the cracks and people will eventually forget about them."
Saying her brother's name is soothing because it means he'll be remembered, Pichardo said.
"I miss Alex's laugh. I miss hearing him crack jokes. I miss his embrace. I miss him so much," she said. "He was funny. He cared about everybody."
She described an incident that most would find traumatic, but Alex found the humor in it.
Alex was walking to a place to get a piercing when he was robbed of his shoes and coat. After a chilly walk home, he laughed with his family at how the robbers took stuff that his mother had bought at a thrift store but didn't take his gold ring and chain.
"He was like, 'How dumb are they?' and he just laughed. We were like, 'Hey, this isn't funny,' but he was laughing, so we were laughing," Pichardo said. "He had that kind of sense of humor about everything."
"It's a heartbreaking thing for him to get robbed for a second time and lose what little stuff he had, and also lose his life."
The City of Philadelphia is offering a reward for information leading to the arrest and conviction of the suspect(s). Anyone with information should call 215-686-TIPS.