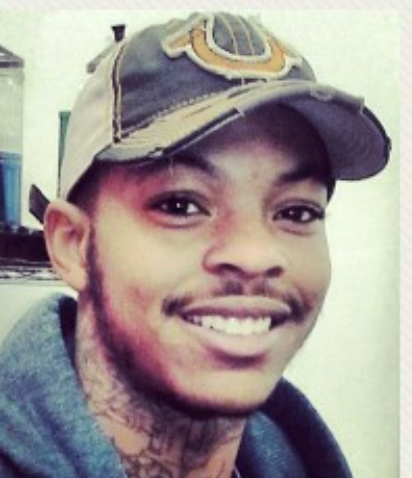 The first thing you should know about Darrin Grandy is this: None of his friends or family ever really called him Darrin. To them, he was Meatball.
"When he was born he was really chubby," said his mother Tameka Johnson, who lives in Olney. "The name just stuck with him."
Born July 12, 1994 in Philadelphia, Darrin was the youngest of Tameka's four children. He grew up in Germantown and attended Clarence E. Pickett Middle School, Germantown High School and Delaware Valley High School.
From the time he was about 2 years old, he didn't like to be inside, Tameka said. Growing up, he would spend as much time as he could playing with his friends outdoors.
"I used to call him my street kid because he just loved to be outside," she said. "He didn't care how cold it was, how hot it was, if it was raining, he just had to be outside."
Darrin had an outgoing personality and loved being around people. His sister Darnie' Knox, 26, described him as "funny, loud, very loud. He was always walking through the house making a bunch of noise. He had a big heart. He loved music. He was very spoiled and was a big baby most times. He loved kids and was just real outgoing with a big personality."
He became a father when he was 18. He was a good dad to his son Zyleem, who is 6, and he'd do anything for him, Tameka said.
Darrin had picked up carpentry skills and other trades and worked in construction, gutting and rebuilding houses. But what he really enjoyed doing was cutting hair. He learned from his father, who was a barber. Darrin didn't have his license yet, so he'd make house calls.
In fact, right before he died, he was working toward getting his license to cut hair professionally and was honing his skills with a barber in his neighborhood.
Darrin was shot June 15, 2017 in Germantown. He was transported to Einstein Medical Center and started to recover. Within a short time, Tameka said, he was back to his normal self and was expected to survive, although he was paralyzed from the chest down.
"At first, he was hurt, but then it marinated for a couple days and he was happy he was alive," Tameka said. "At that point he didn't even care that he might never be able to walk again. As long as he still was alive and his family was there and he was still able to see his son, he was fine."
Then, he developed an infection and caught pneumonia, but recovered. He was sent to a rehabilitation facility, where worked on his mobility and even played basketball in his wheelchair. It looked like he was going to be okay.
Darrin celebrated his birthday there.
"He was happy. He was like, 'Mom, I reached my Jordan year' because he turned 23 and Michael Jordan's number was 23," Tameka said. "We brought him balloons. We had fun."
Darrin's condition took an unexpected turn for the worse after that. The infection and pneumonia returned. He was placed on life support, where he remained for several days. On July 28, his family made the painful decision to remove him from the machines that were keeping him alive. 
Tameka also signed papers authorizing the donation of Darrin's organs.
"On the happy side, there are three people walking around with a part of him," Tameka said. "He lost his life, but he was able to save three other people."
Rather than having a funeral, Tameka decided to hold a big cookout in Darrin's memory at Fisher Park in Olney.
"We called it a celebration," she said. "Everybody knew he loved music and loved to dance. I didn't want anyone to be sad and crying. I wanted everyone to be happy and enjoy this right here. So that's what we did."
No arrests have been made in Darrin's homicide. Anyone with information is asked to call 215-686-TIPS. Callers can be anonymous.