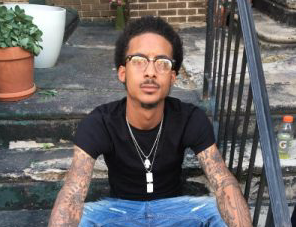 Trina Singleton and her husband did everything they could to give their son Darryl a good life.
He grew up spending his summers visiting his grandmothers in Georgia and South Carolina, even flying on an airplane by himself when he was young.
He went to a two-week CSI camp affiliated with Johns Hopkins University in Baltimore when he was 16 and kept in touch with friends he made there. He had involved parents — while he was a student at Freire Charter School at 20th and Chestnut, Trina served on the PTA until he graduated.
So the Singletons can't make sense of what happened to Darryl on the night before his 25th birthday, Sept. 13, 2016. He was shot behind his childhood home on Hoffman Street in Southwest Philadelphia. No arrests have been made.
Darryl enjoyed writing, and after he died, Trina found a poem that he wrote for her but never gave her.
"It was about how he felt about his family, how he was raised, and the examples he gave were the Cosbys and the Winslows from the Steve Urkel show," she said. "That made me feel good because he did feel like he had a good life."
After high school, Darryl worked at UPS for a few years and also earned his certification to be a medical assistant through Job Corps.
At the time of his death, he was enrolled in All-State Career School's emergency medical technician program in Delaware County. He took classes at night and babysat for a family member during the day.
"He was doing very well. He was about to finish and about to start his clinicals," Trina said. "He was interested in helping people. I think he felt like being an EMT would be a natural thing for him."
Trina, a realtor and an elected Democratic committeewoman in Collingdale, Delaware County, where she now lives, explained that Darryl was a people person through and through. And the people he loved most was his family.
"Darryl had a lot of personality," Trina said. "He's the one who kept my whole family together. He spent time with everyone and he kept all of the branches of our family connected."
Darryl began asking for a sibling as a young child, and when he was 4, he got his wish. He and his brother Isaac were very close and Darryl always looked out for him, Trina said. Isaac is now in his fourth year at Drexel University. Darryl also had another brother who is now 6. A few years later, Darryl had another request: a dog. So his parents got him a puppy and he had him for 12 or 13 years.
Every summer until he was 16, Darryl and his brother visited Trina's mother in South Carolina for three weeks and Michael's mother in the Atlanta area for three weeks. Their parents wanted to expose their sons to the world beyond Philly.
Barbara Singleton, Darryl's grandmother who lives outside in Atlanta in Sandy Springs, Ga., remembers taking her grandchildren out nearly every day to places like the movies, playgrounds and an aquarium. But the must-visit places each year were the Martin Luther King Jr. National Historic Site and the Fernbank Museum of Natural History in Atlanta. It was their tradition.
She would also bring them along when she would visit a local nursing home, and Darryl would sing songs for them, like "I Believe I Can Fly."
"Some of the same people he sang to at the nursing home are still there, and he's gone," Barbara said.
She and Darryl always had a special bond that has continued after his death. She dreams of him often and feels his presence, which brings her comfort.
"He was a person with a good heart," Barbara said. "I honestly feel that had he gotten a chance to be older in life, he would have done something big that a lot of people could have benefited from because he had that caring in him. The world missed out on a lot."
Since Darryl's death, Trina has found solace in other mothers of homicide victims who are also trying to get justice for their children.
In turn, Trina has provided comfort and guidance to other families of victims who aren't sure where to go or what to do in order to help get their cases solved.
"There are a lot of parents who are totally lost in the system," she said. "I figure if I can share my experience with them, then maybe it can help with the healing or the grieving process or just with the frustration, because it's very frustrating when someone is murdered and you can't get answers."
Services were held for Darryl at the Southwest Philadelphia Seventh-Day Adventist Church. He is buried at Mount Lawn Cemetery in Sharon Hill, Pa.
A $21,000 reward is being offered for information leading to the arrest of a suspect in Darryl's case. Anyone with information is asked to call 215-546-TIPS. All calls will remain anonymous.