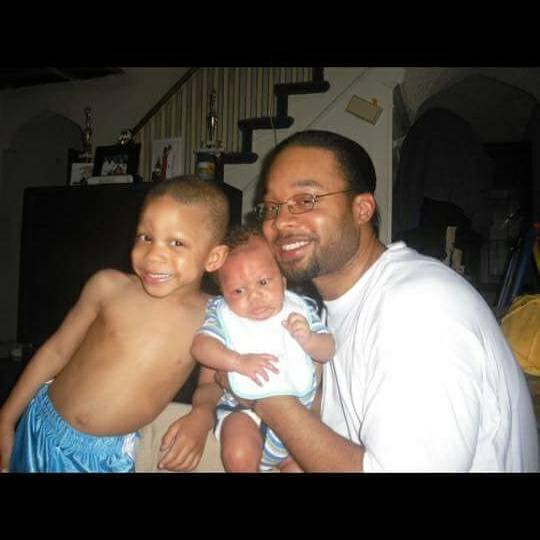 Losing a loved one to gun violence is never easy, but people were particularly surprised when Kyle Manley was shot.
"People were saying, 'No, not Kyle! Why would that happen to him?'" said his only brother, Todd Manley, a patrol officer at the University of Pennsylvania. "He wasn't into that type of lifestyle."
The fact some people are sometimes considered more likely to get shot is sad enough, but the truth is, Kyle Thomas Manley was one of 277 people killed in Philadelphia in 2016. He gunned down on Oct. 16 a few blocks from his home, right around the corner from his grandparents' house. He was 34.
Kyle, the son of a female firefighter at Engine 78 at the airport, was raised in West Oak Lane. He was a product of a mostly Catholic education when he was young, including St. Therese of the Child Jesus and Holy Cross. He graduated from the public Martin Luther King Jr. High School, where he put his mighty stature of 6-foot-5 to good use a varsity linebacker.
He shared a lot with his brother. They had the same smile, the same laugh, even the same birthday. But there was just one thing.
"He was Eagles fan, I'm a Cowboys fan, so that was always fun," Todd said with a chuckle. "Now he gets a pass."
"We kind of the same kind of laugh," he said. "We have the kind of laugh that makes people want to laugh, the higher pitch it goes. His smile always makes me smile. We were getting pictures together for the obituary, and there were so many of him with this huge smile."
Todd's love of the Cowboys can be traced to their father, who used to run track and scored a tryout with the team back in the day. But tragedy struck the family early, and their father died from an illness 20 years ago. Years later, a cousin was murdered in 2005. And in the months before Kyle's death, had been struggling to find work, but none of the struggle stopped him from exhibiting a characteristic lust for life.
"He was a fun person to be around," Todd said. "He was a lover of sports and video games, and just an all-around fun-loving guy."
Besides being a nut for video games — the John Madden football games, fighting games like Tekken and Street Fighter — Kyle loved spending time with his two kids, Kyle Jr., 11, and Corey, 7.
Todd said the police had a suspect in custody, but when we spoke, they still didn't know how some minor beef escalated into his brother getting shot.
"We got video, but sometimes things don't go the way you want them to go. They're still reviewing the tapes. My brother had Chinese [food] in his hand, and he puts it down…" Todd said, trailing off.
"It's what you call a cowardly act. If you have a confrontation, you fight, then you live to see another day. From what the doctor said, he died instantly."
Services were held at Mother Bethel AME Church and Emmanuel Johnson Funeral Home.
News coverage: